In over 12 years in management consulting, Jonas Burkard gained experience in numerous projects, in project management as well as in supporting functions, advising large international corporations as well as small startups.
His projects focused on strategy development, reorganizations and the optimization of processes and supporting IT systems. He helps  established companies to find ways to greater agility fitting their individual DNA and supports digital "pure players" to build structures balancing  flexibility and efficiency.
Jonas Burkard speaks fluent German, French, English and some decent Spanish.
Work philosophy: "Add value sustainably, win trust, work in a strong team, listen, create clarity, convey knowledge, think beyond the obvious, consult."
Social Media Profiles
Current publications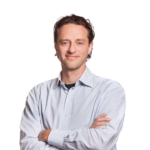 »Agility within the organization: What organizations can learn from startups«
Vita Jonas Burkard
since 2010 enable2grow, Freelance Management Consultant
since 2014 Lecturer for Project, Change and Process Management, HTW Berlin
2006 - 2010 CTG, Management Consultancy Berlin
2002 - 2005 Business Administration and Economics, TU Dresden
2000 - 2002 Diploma from IECS, Strasbourg