Jonas Burkard encourages his clients to take new paths and successfully overcome their challenges. He supports them by creating efficient structures and through his acute sense for sometimes conflicting needs with multiple stakeholders involved in complex projects.
Clients value Jonas as a sparring partner due to his broad experience and his clear strategic vision and thinking. With his agile mindset he enjoys enabling efficient collaboration and sustainable value creation.
His experience in advising large international corporations as well as dynamic startups and scaleups allows him to benefit from the best of these two worlds: he helps already established companies to find ways to a greater agility that fits their individual DNA and supports digital "pure players" to build structures balancing flexibility and efficiency.
Jonas has a strong background in the classifieds business, including real estate, automotive, and mobile marketplaces as well as a proven track record of successful PMI projects in telecommunications, mobile advertising. and utilities.
Given his expertise in project and change management, Jonas gets teams take up speed fast and uses his repertoire of skills and experiences to contribute to achieving lasting success. He enjoys creating impact and measurable results in strategy development, digitalization, process & workflow optimization or business & financial modeling.
Jonas is fluent in German, English, French, and has intermediate Spanish skills.
Customer Experience (selection): ebay Classifieds Group, Deutsche Bahn, ImmobilienScout24, JLL, Fyber, co2online, Lecturio, K-New Media (Klingel), European Commission (H2020 project), Nokia, Alcatel, BDEW, E.on
Social Media Profiles
Current publications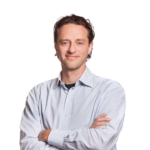 »Agility within the organization: What organizations can learn from startups«
Vita Jonas Burkard
since 2011 enable2grow, Senior Enabler
since 2014 Lecturer for Project Management, Change and Process Management, HTW Berlin
2006 – 2010 CTG, Management Consultancy, Berlin
2002 – 2005 Business Administration and Economics, TU Dresden
2000 – 2002 EM Strasbourg