Digital Fitness White Paper
Are you facing the challenges of Digital Transformation?
Do you know which elements are crucial to success?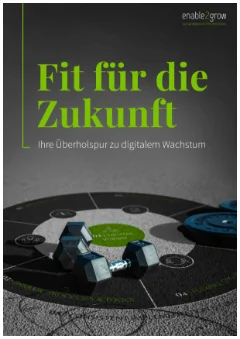 Why it matters
Digital Transformation is complex – that's why you have to apply a holistic approach that takes all diverse aspects into account. Our 360° method ensures all crucial levers for a successful Digital Transformation are addressed – from vision to execution.
How it helps
The enable2grow Digital Transformation Wheel enables a systematic approach to Digital Transformation Wheel with true impact. It will guide you through the key steps and core elements of Digital Transformation and helps you transform insights into visible outcome.
What it is
Building on 20+ years client experience of driving digital business and helping organizations to become future proof. The enable2grow Digital Transformation Wheel with its eight key success factors is the essence of our expertise, which will help every company get their Digital Transformation rolling..and help you to improve your digital fitness.
Digital Fitness White Paper
The enable2grow Digital Fitness White Paper will provide you with a holistic view of change through a proven 360° method for digital growth – from strategy to its execution
Get your FREE DOWNLOAD of the Digital Fitness White Paper by Stefanie Peters, the founder and CEO of enable2grow GmbH
The core elements of digital transformation
01 | Digital Vision

Define the target

02 | Holistic Strategy

Think your way forward

03 | New Business Models

Measure progress

04 | Flexible Organisation

Agile work in diverse teams

05 | Dynamic Processes and Tools

Iterative approach to learning

06 | Open Culture

Establish the right mindset

07 | Relevant KPIs

Measure progress

08 | Consistent Implementation & Communication

Follow a roadmap
"Digital transformation requires a holistic view of the entire organisation."
– Stefanie Peters
What our clients say

Martina Bruder
CEO Wolters Kluwer Germany
Transformation and Growth strategy, including a new Organization Design
"With the professional support of enable2grow, we have developed a clear-cut, sustainable strategy for our legal division, anchored it in the company and put it into practice. The market is aware of that and we are proud of what we have achieved."
Download Digital Fitness White Paper now