Developing new business models is first about having a very good understanding of the needs and wants of your customers.
Beyond that it's about the resources and areas of value within your own organization. Then finally, about leveraging sources of inspiration and innovation to reimagine how you serve your customers.
For example, when IKEA wanted to serve their customers who loved their designs, but found building the furniture too much of a challenge, they looked for a solution – even though IKEA positions itself as a DIY business. In 2017, they acquired TaskRabbit, a digitally-driven business that connects IKEA customers with people who build the furniture for them.
Digitalization is a powerful driver of new business models, like the IKEA example and the other four customer-centric success stories included in this article illustrate. It requires the courage to change from what you know, to what you can learn and discover. Digitalization defines new value chains and adds new roles yet also identifies old links and roles which are obsolete. Digitalization creates transparency which provides the benefit of bringing business development opportunities and progress into view. It can also shed light on shortcomings and risk, which is a challenge that organizations need to address.
Ask your customers the right questions
We worked with an organization that ran a profitable print-based business. They knew their business had limited lifespan, and that they had to transform to offer more digital products. But, they did not know which products or which business models they should pursue.
To assist in identifying new business models we interviewed 50 customers from a range of business segments . Although our clients' sales people had talked with their customers – and thought they understood their wants – the results revealed overlooked and unmet customers needs.
To discover these hidden needs we asked key questions that go beyond feedback on current products or services. When you know the answers to the following questions you can begin to develop new areas of business:
What are your customers' current, biggest pain points?
What are the gains they are looking for?
How do they perceive the trends in the market?
Do your customers see disruptive trends?
Which tools are they using – and are they working well?
See your own organization from your customers' view
As we evaluated the answers, we identified a few common pain points. Then we looked at our client's unique assets and their organization's DNA with a very customer-centric view. As this was a large organization, we differentiated between the different customer segments to reveal even more insight. For each, we asked our clients to consider:
How do you earn your money today?
How can you earn money in the future?
How does your value match the customer pain points that you identified?
Where can you deliver the best value to your customers?
To answer these questions, it's necessary to be aware of what new technologies and market dynamics are affecting your customers and stakeholders. Today, adding value comes from looking to digital business models, creating new market access, and expanding existing product ranges and services with digital offerings. As the figure below shows, it's the customer value that needs to be assessed. This requires brave visionaries who take on good risks. We must be open to developing disruptive business models, even ones that cannibalize existing business with no growth potential, in exchange for developing sustainable businesses.
Identify hidden value in the customer experience
You can find opportunities not just products but also in route to market, your distribution processes, payment methods and as described in this article from Accenture, any other part of the business that contributes to the customer experience. In our experience, it helps to question your own organization and its core business time and again:
How can you digitize your core business?
How will your competitors transform their core business?
What do your customers expect from you in the future?
And how can you disrupt yourselves before others do?
Be open to new opportunities, even if they threaten established models
In the case of our client, we researched market trends, emerging technology and competitors to help assess where there was the biggest overlap of client resources and customer needs. While our client had been in a print-based business, at their core they used paper to deliver specialized knowledge to a group of customers who relied on this content. Although the paper format was acceptable, what customers really wanted was faster access, on the move, to more specialized slices of knowledge. To serve this pain point, we designed a new business model around a digital content platform with a flexible range of services customized to client segments. Innovation and growth mindset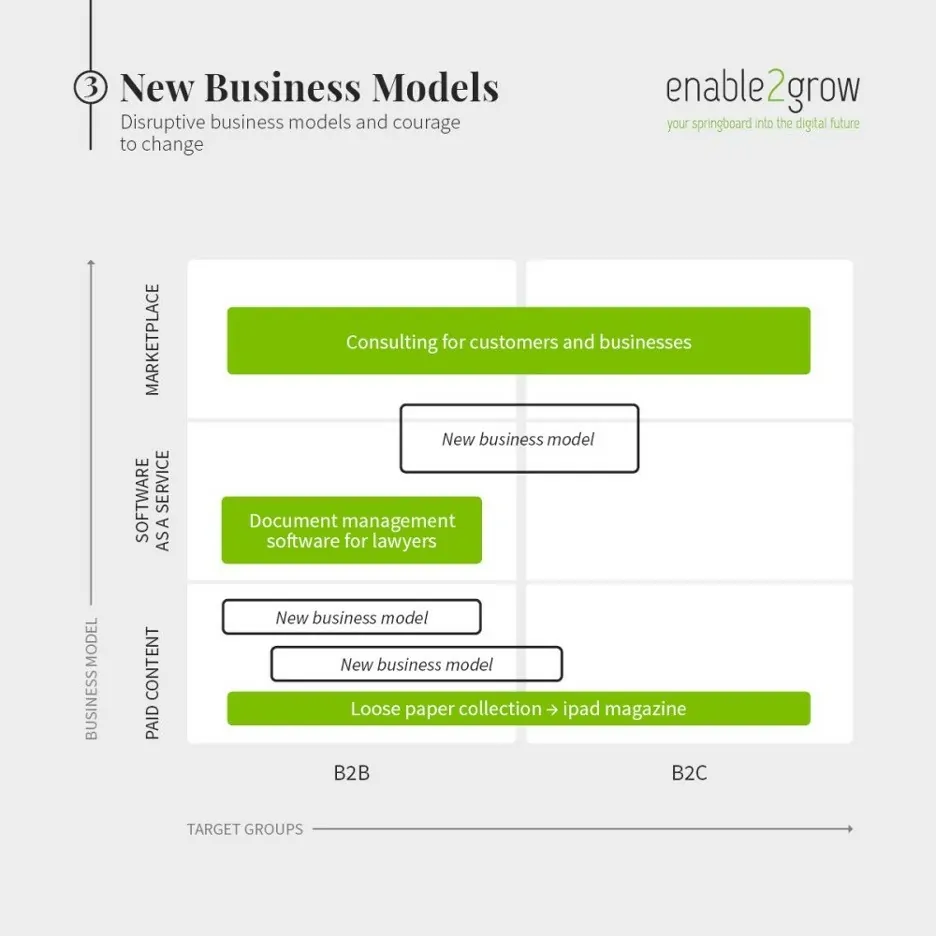 Be open to new opportunities, even if they threaten established models
Developing creative business models requires an open culture and growth mindset. For a business model to remain sustainable, it is necessary to question old processes and, if necessary, develop new models. Targeted disruption within the company requires plenty of courage. Old business areas and processes are massively changed—in a sense, you become your own competitor. Yet this is the only way to stay fit for the future, and to adapt to the constantly changing markets.
New business models are just 1 of 8 areas in our Business Fitness Wheel. You can find more and even do your own digital fitness check online here: https://lnkd.in/ddBSm8t