Over the past 30 years Jasmine successfully looks back on senior leadership positions in corporate/crisis and communications, marketing and branding such as being an advisor for huge company transformations inside and outside of Germany.
She has worked with multinational corporations such as Daimler, Deutsche Telekom, Bosch, Bertelsmann and Philips in different roles.
Today Jasmine advises top clients on issues relating to strategic communications and
leadership topics, stakeholder and leadership dialogue, crisis and transformation communications, corporate and personal branding, positioning and reputation management on C-Level with her specialized experience in restructuring.
She studied economics and literature at the University of Kassel, Germany. With her international background and expertise abroad, she has developed strong intercultural skills. Currently she is finalizing her Master in Executive Coaching at Hult International Business School in London.
Social Media Profile
Aktuelle Veröffentlichungen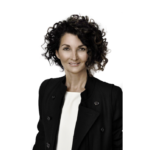 »"Krisenkommunikation bedarf besonderer Sende-Antennen"«
Vita Jasmine Borhan
seit 2013 JB Strategic Communications, Founder, focus on Executive Coaching and Organizational Development in times of transformation Ashridge Accredited Executive Coach, Masters in Executive Coaching work in progress
2011 – 2012 Philips International B.V., CMO & Head of Corporate Communications worldwide
2008 – 2011 JB Strategic Communications, Founder, focus on Strategic and Crisis Communications, C-Level Positioning and Reputation Management
2001 – 2005 T-Online International AG, Head of Corporate Communications Europe
1999 – 2000 Jungheinrich AG, Head of Corporate Communications and Marketing
1997 – 1999 Debis Financial Services, Senior Manager Corporate Communications
1992– 1997 Deutsche Messe AG Hannover, Press and Public Relations Manager for Asia and LATAM
1990– 1991 Bosch/Blaupunkt, Trainee and Assistant to the GM with a MA in Economics and English Literature and Romance Languages