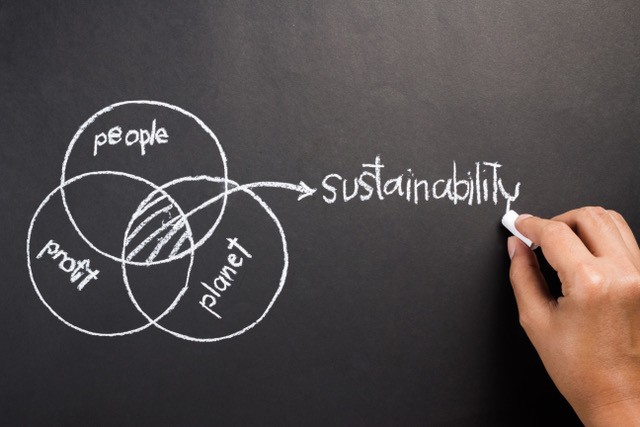 Whilst writing this, most of us are still facing the effects of a global pandemic. Covid-19 has shown us how interconnected the world has become. Everyone is affected one way or another. Yet, there is an even bigger risk that is still lingering upon us that could lead to even greater human and economic costs. I'm talking about climate change and it has the potential to make life on earth inhabitable.
To tackle such multidimensional challenges, we need businesses on board. Good that many are taking action now – voluntarily or mandatory. Some privately held companies are following suit and are communicating about their impacts on a voluntary basis. They see the benefits of transparency and communication. Patagonia and VAUDE are good examples of such companies. They have integrated sustainability into their business strategies, and they disclose the environmental and social impacts of their actions. This has been rewarding for them. Patagonia's revenues have increased 4x in the last 10 years and have surpassed $1 billion. VAUDE was able to weather the pandemic without state aid.
Larry Fink, Chairman and CEO of Blackrock hit the nail on the head when he said that to prosper over time, every company must not only deliver financial performance, but also show how it makes a positive contribution to society. It emphasizes that companies do not face trade-offs when deciding which stakeholders to create value for.
Businesses leading the way
Within the business context, sustainability boils down to businesses making a positive impact on the environment and/or on society. Sustainable companies have some characteristics in common:
They increase the well-being of their employees, customers, communities, and other relevant stakeholders
They actively restore, conserve, and support ecological systems
They are financially successful and seek to create wealth
When companies neglect these, environmental degradation, inequality, and social injustice often follow. Volkswagen is a prime example. The car manufacturer underwent public scrutiny for dodging emissions tests in 2015. Its diesel engines were fitted with devices that made them appear less polluting than they actually were during testing by US and EU regulatory authorities. Around 470,000 VW diesel cars were affected in the US, 11m cars worldwide. The scandal had big knock-on effects, as consumers bought fewer diesel engine vehicles from all manufacturers in the last five years. In 2014, Volkswagen was even testing its vehicle exhaust emissions on humans and monkeys in the US – knowing the exhausts contained particles that could cause cancer.
Being caught cheating was expensive for the company: the share price fell by more than 35%, the company's market cap contracted by over $25 billion and CEO Martin Winterkorn resigned under pressure. VW paid more than €30bn across the world in fines, compensation and legal costs since the scandal first emerged in September 2015. It has since tried to move more quickly towards electric vehicles as it tries to repair its reputation. The company is still battling with the aftermath of the scandal. In 2020, CEO Herbert Diess announced plans to recruit an aggressive climate activist, who will have direct access to the board to challenge its sustainability policies.
The Wirecard collapse offers another case for the high costs of unsustainable business practices. Former CEO Markus Braun believed the company had €1.9 billion that didn't exist and regulators and auditors failed to spot the disaster despite warning signs. German market supervisor, BaFin, even started an investigation – not on Wirecard – but on Financial Times journalists on the basis of market manipulation. Wirecard, also called the "Enron of Germany" collapsed in June 2020 and investors lost billions.
Volkswagen's attempt to deceive customers and regulators shows considerable weaknesses across all three ESG aspects. It was polluting the environment more than it disclosed, did considerable harm to its community, including consumers and had tremendous gaps in its governance as it conducted unethical behaviour. Wirecard destroyed value in the areas 'social' and 'governance' in particular by being an unethical corporate citizen with a lack of transparency.
Companies have many opportunities to act sustainably. ESG research and ratings provide a good way to identify relevant sustainability issues, performance metrics and targets. From there on initiatives can be developed. ESG indicators measure performance along environmental, social and governmental criteria. ESG factors influence a range of issues that are not part of financial analysis and reporting, but still have financial relevance. Issues include how businesses respond to climate change, how they manage their supply chains, how they treat their employees and whether they have a corporate culture that fosters innovation.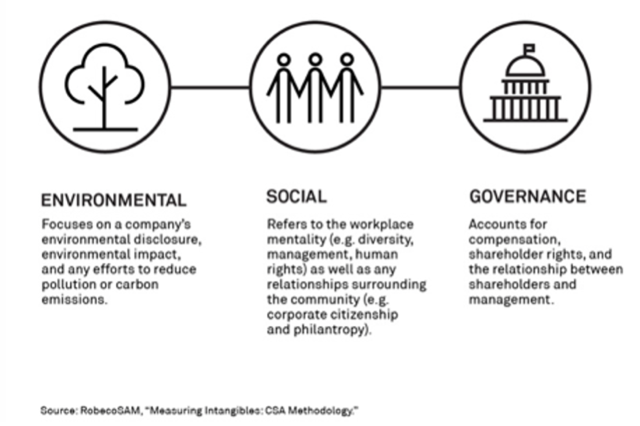 Being a sustainable business is good business – it pays into a company's Triple Bottom Line – People, Planet and Profit. As a company adds value across all three dimensions, it is operating for a sustainable future.
Why has ESG become so popular and is it here to stay?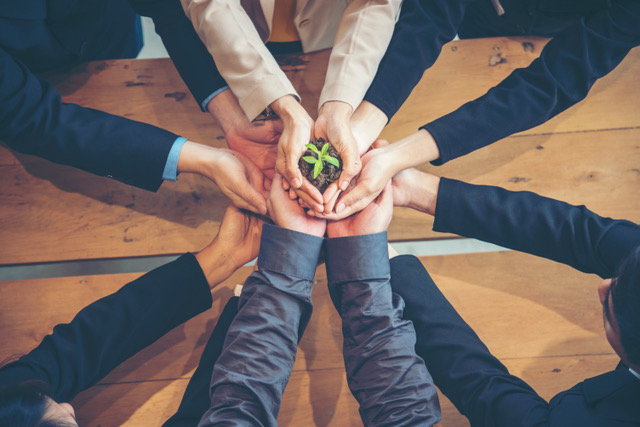 Increasingly, companies are dealing with pressure from stakeholders, including investors, customers, employees, NGOs and regulatory bodies to increase transparency on their sustainable and socially responsible activities by way of Environmental, Social, and Governance "ESG" reporting.
The term ESG was initially coined in 2005 in a study named "Who Cares Wins" and stems from the idea that integrating ESG into capital markets makes business sense and leads to more sustainable markets and better outcomes for societies. Since then, responsible investing has become very widespread. Between 2018 and 2020, total U.S.-based sustainably invested assets under management grew by 42%, from $12 trillion to $17 trillion.
What is ESG Reporting?
Unlike financial reporting, which communicates the financial health of a company, ESG reporting discloses environmental, social and governmental impacts. ESG or sustainability reports summaries information and analysis on ESG issues. Issues include how businesses respond to climate change, how they manage their supply chains, how they treat their employees and whether they have a corporate culture that fosters innovation.
Environmental criteria entail greenhouse gas emissions, land protection, pollution & waste, and water use.
Social criteria describe the relationships with human capital and product liability, including diversity reporting, wage gaps, and health and safety.
Governance criteria encompass purpose, strategy, tax transparency, corporate governance and behavior, and business ethics.
Why is ESG reporting important?
We have always told stories. They're important parts of our lives. Reporting on ESG metrics together with financial results tells a story of purpose. Hence, presenting a sustainability story that is integrated into business strategy results good financial performance is beneficial.
Investor landscape is changing
ESG reporting is seen as key to strengthening capital markets. Before making investment decisions, investors screen potential targets through an ESG lens in addition to looking at financial performance and long-term growth metrics. Large asset managers, such as Blackrock, are also using their power to pressure companies to improve their ESG disclosures.
Additionally, as more and more millennials enter the investment community with an increased interest in ESG. The new generation of investors have an appetite for greener products and are reevaluating conventional investment approaches.
The world is changing
New types of risks are emerging, such as flood risk and sea level rise. Demographic shifts influence what customers and employees demand. They want to know how a company's purpose is being carried into society through its ESG reporting. They wish to identify with the brands they are buying and the companies they work for. NGOs use ESG reports to sense the impact a company is having on performance indicators such as water consumption and human rights violations in the supply chain.
Data and analytics are evolving
We are seeing more relevant approaches to ESG key issues as regulatory bodies are increasingly requiring ESG disclosure. Under the EU's "Non-Financial Reporting Directive", companies with more than 500 employees doing business in the EU must make ESG disclosures. It's likely that the new U.S. administration will introduce new ESG mandates too.
The sustainability reporting landscape is a complex world with several ESG standards organizations
SASB: sector-specific guidance on a broad range of ESG topic
TCFD: general and sector-specific guidance, but only on climate-related topics
GRI: assesses materiality based on impacts made by issuers
With such complexity at hand, the challenge remains to standardize the standards.
When companies report on ESG metrics they are better able to identify growth opportunities, manage potential risks, and promote sustainability across the world. The popularity of ESG investing can be seen as a proxy for the changing nature of markets and societies and how ideas of valuation are adapting to these changes. Companies still face challenges to adapt to this new environment that rewards and favors cleaner, healthier and smarter products at the expense of businesses that still perceive pollution as free and labor as just another cost factor in the income statement. Investors rely on high-quality data to identify the winners; companies that are well positioned for the future and to avoid those that are likely to fail.
Why becoming a sustainable business makes good sense
Business sustainability rests on the idea of developing strategies to create long-term value by taking environmental, social and economic dimensions into consideration. There are clear positive impacts on key performance indicators for companies that build sustainability into their strategy.
Better financial performance and return on investment
Businesses with strong ESG performance indicators don't see the three dimensions as trade-offs and are thus better able to allocate capital towards long-term value creating projects. By doing so, they are turning their backs on measures that are narrowly focused on short-termism and quarterly reports. For example, the dividends of investing in renewable energy sources may only materialize in the future. Relying on fossil energy sources for production at the expense of investing in upgraded plants that use renewables may appear to save costs today but can result in higher costs later down the line through declining interest from consumers and increased public scrutiny. Having a fixed mindset and adopting a "business as usual" approach can be costly in the future.
Companies with a strong commitment towards ESG are also better able to attract customers with sustainable products. More than 50% of consumers said they would pay more for sustainable products that are designed to be reused or recycled. Additionally, companies are able to reduce costs through measures, such as lowering energy consumption and better waste and water management.
Blackrock highlights that during 2020, purposeful companies with strong ESG profiles outperformed their peers. 81% of a global representative selection of sustainable indexes outperformed their parent benchmarks in 2020 (broad market counterparts).
Lower risk profile
A study of more than 2,000 companies from 1998-2011 shows that companies with more diverse boards (gender, race, age, tenure, and expertise) are more risk averse. They show lower volatilities of stock returns than those with less diverse boards. Consistent stakeholder engagement also results in better access to resources through stronger community relationships. Companies that are good corporate citizens with a strong standing in their communities are well-positioned to acknowledge changes in market developments quicker and thus better able to react. This can be a strong competitive advantage.
Better access to capital
The direction of travel is clear: ESG criteria matter more and more, as there is an influx of capital into highly ESG-rated companies. Investors are increasingly rewarding these companies with better access to capital. Hence, access to capital will become more difficult for companies with poor ESG indicators.
Attracting and retaining the best talent
Being a millennial myself, I know that we care about which companies we work for. Ideally, we find purpose in our jobs and embrace the values of our employers. This makes it easy to be more loyal and motivated to drive intangible results. Companies with strong ESG metrics are able to attract and retain better talent, increase employee motivation and productivity and establish a sense of purpose. Companies with weak ESG profiles will find it increasingly difficult to attract the brightest talent, especially millennials, who expect their employees to reflect their most important values.
Companies that are best able to demonstrate purpose in delivering value to employees, customers and their communities, stand the best chances of competing in the long-run and, as a byproduct, deliver sustainable profits for shareholders. The COVID pandemic has also shown us the resilience of sustainable investing and accelerated existing trends. Instead of fading ESG has gained momentum and gone from strength to strength. Investing in creating a strong ESG profile should not be perceived as a cost, but as a way of futureproofing while helping to create a more sustainable world.

Sustainable businesses in practice
An increasing number of companies are aligning strategy and sustainability to move away from the profit-first mantra. These privately held companies are reporting and communicating their sustainability measures and impacts on a voluntary basis. It's clear to them that "doing more good" requires them to be profitable.
The activist company from California
California-based outdoor-clothing brand Patagonia is widely known for being a pioneer of doing business while causing little amount of harm. Slightly paradoxical in its approach, the company ran an advertising campaign in 2011 asking people not to buy its products on Black Friday, the busiest day in the US retail calendar. In 2016, it gave 100% of Black Friday sales (about $10 million) to environmental groups. With such actions, it discourages consumption and reminds customers to think twice before buying new products. As a privately held company, Patagonia is able to avoid too much public scrutiny for its anti-growth strategy.
For Patagonia founder, Yvon Chouinard, it has always been important that the company remains true to its eco-conscious origins. Patagonia has made environmentalism part of its brand identity:
100% organic cotton used in its garments
Cloths come with a lifetime warranty
Free repair services offered
10% of profits (or 1% of sales – depending on which is greater) are donated to environmental nonprofits. Since 1985, the company has given away $100 million to environmental groups.
Launched a VC fund that invests in start-ups that focus on environmental issues in 2013
Aims to achieve a carbon neutral supply chain by 2025
Even retail competitors marvel Patagonia for its approach. "Patagonia is about two things: quality and values. Simple as that. They consistently execute on those two core ideas, and don't get caught up in the noise. This is effectively what puts them in a class of their own" (Bayard Winthrop, the CEO of American Giant, a clothing company). Simply put, it walks the walk and talks the talk.
In the war of talents, Patagonia is faring well too. Over 9,000 people applied for 16 summer internships in 2019. Prospective employees are drawn by perks, such as on-site childcare, a cafeteria selling subsidized organic meals, and the chance to surf or hike during lunch breaks.
More and more consumers choose a brand because of its position on social issues. Needless to say that its environmental activism has been good business. Both, young and old buy Patagonia products but it is especially younger people who are rewarding companies that act responsibly. They are willing to pay a higher price for jackets and other garments that are produced in an environmentally conscious way. These young consumers expect their favourite brands to speak out and Patagonia does just that.
The fruits of Patagonia's efforts: revenues quadrupled over the last 10 years and recently surpassed $1 billion. Still, humble in its approach, the company aims to show that being a responsible business is good business, for others to follow.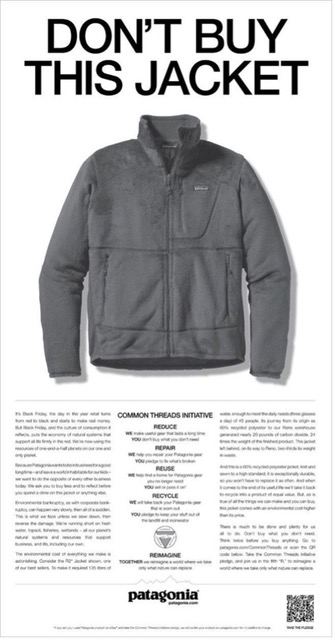 Sustainable value creation as an integrated corporate mission
The progressive outdoor outfitter, VAUDE is at the forefront of German family businesses with sustainability to the core. The company was founded in 1974 and is contributing to making (y)our world a better place. To reach this strong sense of responsibility, VAUDE has defined 7 ambitious goals:
Being economically self-sufficient and positioned for a promising future
Being transparent and authentic
Offering sustainable and innovative products
Being climate neutral as a company
Achieving high environmental standards in the supply chain
Being an attractive employer with satisfied employees
The progress of these goals is checked at regular intervals.
In 2009, Antje von Dewitz took over as CEO from her father and decided to build a company with sustainability engrained in its core. VAUDE went through a challenging transition period that involved changing internal processes and the company culture.
Its efforts have paid off. The company developed its own rating system for environmentally friendly products, "Green Shape", which has become a trademark with customers. Close to all of its garments produced carry the label, which covers the entire product life cycle. Since 2012, the company location in Tettnang and all products manufactured there have been climate neutral. Its fleece jackets are made of wood fibers, which do not release microplastics into waters – a major product innovation. The company has successfully integrated sustainability holistically throughout the company strategy and has anchored it into the "normal" workday of its staff.
Even suppliers play an active role. VAUDE aims for cooperation with its suppliers to develop new, environmentally friendly materials. This involves explaining benefits to them and convincing them to change their production processes. Despite its small size on the global scale, it is making a big difference. For its Integrated Sustainability Strategy efforts, the company has received a number of awards, including New Work Award 2020, Lammsbräu Sustainability Award 2020, Vanity Fair Award 2020 and many more.
During the heights of the pandemic in 2020, VAUDE showed resilience and that having a long term to approach to thinking has benefits. In comparison to adidas, which applied for state aid, VAUDE did not need to. The family business operated sustainably enough in recent years to stem the crisis with its own resources. During the corona crisis, consumers were buying more environmentally friendly products precisely because of the crisis.
VAUDE doesn't reveal any financial figures, not even yearly revenues. All we know is that it is profitable. However, it discloses how the sales prices of average VAUDE products are determined (chart below).
Similar to Patagonia, integrating sustainability into the corporate identity comes with conflicting goals. To remain profitable as a company, it of course wants to sell more products and grow. It also relies on global supply chains and suppliers from Asia to produce its products. Still, the communicated aim is to produce more in Europe. VAUDE also makes customers think twice before buying a product. It embraces self-cannibalization by having set up a repair workshop an open stance towards secondhand clothing marketplaces, such as Vinted.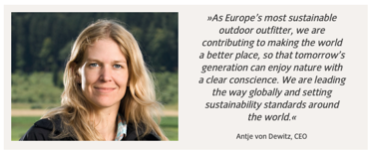 Companies, such as Patagonia and VAUDE see the bigger picture and realize that they can create win-win situations for themselves and society at large by integrating sustainability into their business strategies. They understand companies affect not only people, but also the planet. By applying a progressive approach to business, companies can create value not only for owners of the companies but also for the wider society.
What can companies do to become more sustainable?
In essence, an ESG strategy should align with business strategy and focus on material risks and business drivers. It is also important to note that "doing more good" requires a business to remain profitable. In order to integrate sustainability into their corporate strategies, companies can go through the following steps:
Asses the problem and understand why it is important to you: what does sustainability mean to your team, company, industry, and clients? Take into account the main problems each of these groups considers as a priority and come up with sustainability objectives.
Redefine your metrics for value creation
Every company wants to grow sustainably. Sustainable business growth considers:
environmental, social and governance value creation
the inclusion of externalities (e.g. carbon tax)
that many natural resources are scarce and not regenerative
Companies are becoming more aware of what stakeholder are telling them and building capacities towards reporting on ESG metrics. They are setting annual goals and measuring their progress on ESG performance metrics, such as those in relation to climate risk, human rights and water stress exposure.
Operational procurement
Procurement plays an important role in the operations of companies as it usually makes up a big part of costs. As a sustainable company, procurement decisions will not only be made based on economic costs but will integrate social and environmental factors when choosing suppliers. Following questions become relevant:
Do we choose an alternative supplier who operates more sustainably (green energy, recycled paper & toilet paper)?
Are our suppliers performing strong across all ESG metrics?
Can we educate our suppliers to become more sustainable?
Would we cancel contracts with suppliers who fail to operate sustainably?
Employee Well-being
Higher wellbeing of employee leads to higher productivity and company-wide performance. Studies show that happy employees are up to 20% more productive than unhappy employees. For this reason, it makes sense to focus on creating an environment that promotes happiness. Google is a well-known example of a company with a unique culture that creates a fun work environment that nurtures employee well-being. To increase employee well-being, and strengthen the "social" in ESG, companies can:
Offer flu vaccination and medical check-up
Extensive sports program
Ergonomic office furniture
E-Bike offers, public transport subsidies and alternative, green transport
CFO: What happens if we train them and they leave? CEO: What happens if we don't and they stay? -> Training and development opportunities
Organic and subsidized food, mostly vegetarian
Flexible work arrangement for healthy work-life balance
Communication & Reporting to make ESG performance indicators visible
Reporting on impact potential and impact performance creates transparency across business activities. More often than not, companies publish financial statements that allow outsiders to access the financial health of a company but there is no mention of ecological and social value creation. Increasingly, companies are publishing non-financial reporting. In the EU, large public companies with more than 500 employees are required to publish regular reports on the social and environmental impacts of their activities. Complete, accurate and reliable information are a pre-condition for reporting.
Reporting on sustainability information requires:
Identifying key stakeholders impacted by business operations
Mapping material sustainability issues
Understand relative importance of issues of stakeholders
Formulating management framework, focusing on relevant sustainability issues, choosing performance metrics, targets and initiatives
Using internal and external reporting standards and frameworks
Gathering internal resources, teams and data to meet reporting requirements
Reporting on sustainability performance and continuously improving it
Sustainability also plays an important role for positioning purposes on websites, product information and amongst employees. An authentic approach to sustainability also communicates a healthy feedback culture and eases customers' individual sustainability activities.
Integrating sustainability into a corporate strategy requires entering into dialogue with key stakeholders (management, employees, community). It is pretty much guaranteed that conflicts will arise, but these can be dealt with through active participation of the stakeholders. Management must play an active role in the transformation into a more sustainable company and employees should be enabled to participate in the decision-making processes.
Sources
https://www.blackrock.com/corporate/investor-relations/larry-fink-ceo-letter?utm_source=newsletter&utm_medium=email&utm_campaign=greenfin&utm_content=2021-01-27&mkt_tok=eyJpIjoiWkdVME9XSmhNbVl6T0dNdyIsInQiOiJvMGdsczVPSlNRZFpjZytiOFlOZWxiZlwvQzlCRnRVbnBBU1EwXC9xaXo5Sk1WeThNT0tNWXRSWjNXdnNFZUZxXC8ya0FDZXlScjBcL25rSFpuTThxdGNBdXF4eWx6MFNzWk5oVGd4SDZyaGVTcEJJaWFSeGh1RnBMbllnTm5aOHN4eTQifQ%3D%3D
https://www.ul.com/news/why-esg-reporting-essential-your-business
https://online.hbs.edu/blog/post/what-is-sustainability-in-business
https://www.greenbiz.com/article/my-company-just-started-sustainability-department-what-do-i-do-now
https://www.spglobal.com/en/research-insights/articles/standard-esg-framework-is-key
https://www.msci.com/what-is-esg
https://csr-report.vaude.com/gri-en/vaude/integrated-sustainability-strategy.php
https://www.mckinsey.com/business-functions/strategy-and-corporate-finance/our-insights/five-ways-that-esg-creates-value
https://www.mckinsey.com/business-functions/sustainability/our-insights/sustainabilitys-deepening-imprint
https://thecorrespondent.com/424/the-more-patagonia-rejects-consumerism-the-more-the-brand-sells/56126501376-a30f2daa
https://www.ft.com/content/1564e99a-5766-11e8-806a-808d194ffb75
https://www.forbes.com/sites/georgkell/2018/07/11/the-remarkable-rise-of-esg/?sh=118666b41695
https://www.icis.com/explore/resources/news/2019/06/04/10374331/consumers-willing-to-pay-more-for-sustainable-products-accenture
https://www.theguardian.com/world/2019/may/10/yvon-chouinard-patagonia-founder-denying-climate-change-is-evil
https://time.com/5684011/patagonia/
https://www.wiwo.de/podcast/chefgespraech/podcast-chefgespraech-vaude-chefin-von-dewitz-das-kleine-gallische-dorf-bleibt/25826308.html
https://www.theguardian.com/business/2019/sep/30/volkswagen-emissions-scandal-mass-lawsuit-opens-in-germany
https://theconversation.com/volkswagens-climate-activist-wont-be-able-to-change-the-green-credentials-of-the-company-any-time-soon-133411
https://www.greenbiz.com/article/volkswagen-and-dark-side-corporate-sustainability
https://fortune.com/2020/12/27/biggest-business-scandals-of-2020-nikola-wirecard-luckin-coffee-twitter-security-hack-tesla-spx-mcdonalds-ceo-ppp-fraud-wells-fargo-ebay-carlos-ghosn/
Back to news